3D Mask Brackets
#

2

best sellers
in
Health
last month.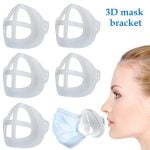 3D Mask Brackets
$9.99 – $14.99
days
:
hours
:
minutes
:
seconds
$9.99 – $14.99
days
:
hours
:
minutes
:
seconds
[sales_countdown_timer id="salescountdowntimer"]
106
orders in the last
30
days.
Enter code:
SUMMERSALE
to save
4%
.
Can only be used before 2024-03-31
Minimum spend required: $24.99
Description
Additional information
Reviews (26)
Description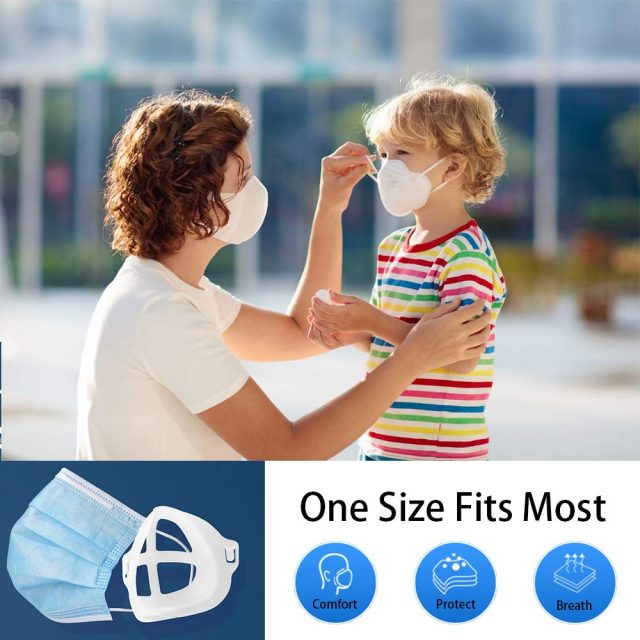 With the coronavirus here, wearing face masks and sometimes 3D mask brackets has become an essential practice. However, even though face masks can be a great way to minimize the spread of the virus, they are not without a few drawbacks here and there. For example, they will; easily get messed up by makeup, put excess strain on the wearer's ears(which can, by the way, sag ears), and fog up the wearer's glasses. Additionally, there have been numerous complaints about them causing breathing difficulties and high levels of carbon iv oxide in the body.
To resolve these drawbacks, 3D face mask brackets have been developed. These face mask accessories are just as essential for everyone as are face masks.
What Is a 3D Mask Bracket?
For starters, a 3D mask bracket is a 3-dimensional face mask insert designed to attach to the inside of your mask. First, you wear the bracket followed by the mask. When you put it on properly, the bracket will prop up the mask off of your mouth and nasal openings a little bit even though still allowing for a seal around the edges of the mask. When it comes to the material out of which mask brackets are made, most brackets are created from silicone rubber. Many 3d mask bracket reviews suggest that this material is very comfortable on the face. Lastly, the brackets come in packs, mostly of three pieces and above.

What Are the Pros of a 3D Mask Bracket?
Always wearing a 3D mask bracket with your face mask can be of significant benefit. Below are some advantages of 3D mask brackets:
✅ To start, a 3D mask bracket can be a great way to put on makeup and look gorgeous without worrying about messing up your face mask. That's because the bracket will make sure your lipstick, foundation, and other related stuff do not come into contact with the mask, inevitably messing it up.
✅ For those who put on glasses, a mask bracket can be a very useful asset in this COVID-19 pandemic when wearing a face mask is almost mandatory for everyone. Unfortunately, one major setback of masks to glass wearers is visual impairment. Masks will fog up glasses, preventing wearers from seeing properly. Fortunately, 3D mask brackets solve this problem by allowing for the escape of carbon iv oxide gas, which otherwise causes your glasses to fog up.

✅ Another huge advantage of 3D mask brackets is that they provide great comfort for mask wearers. You'll agree with me that wearing a long mask period can lead to a lot of pain for the ear. The discomfort can be worse for those that put on glasses. Additionally, face masks kind of hinder breathing, lowering oxygen levels, and increasing carbon iv oxide levels. This can cause great discomfort, making you want to take off the mask altogether and breathe freely. A mask bracket can make wearing a mask for longer durations exceptionally comfortable with no strain to your ears even if you put on glasses beside a mask. It can also enhance respiration, leading to high levels of oxygen and low levels of carbon iv oxide.
✅ Lastly, wearing a 3D mask bracket with your mask will help improve your health in many ways. For example, you won't experience any level of discomfort, putting on your mask for a long duration. As such, you won't have to remove your mask because of excessive strain on your ears or so, putting your health at risk. Secondly, the bracket will improve your breathing. That will prevent high levels of carbon iv oxide in the body, which may otherwise hurt your health.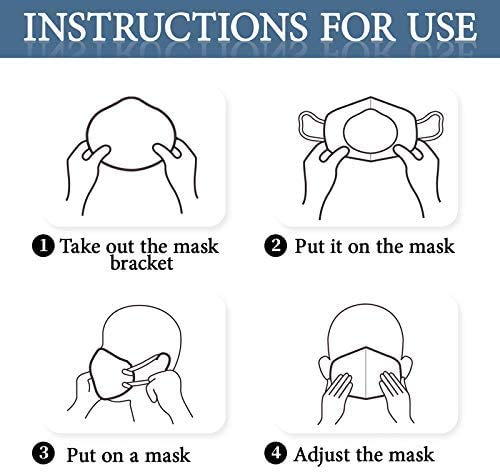 Who is Best Suited to a 3D Mask Bracket?
Is a 3D mask bracket really necessary for me? That's the question that's probably lingering on your mind at this point. And the answer to it is YES. The face mask accessories are essential for everyone. While they are recommended for everybody, those who experience pain on their ears or breathing challenges as a result of wearing a face mask certainly should use a bracket.
Specifications
Uses: fit the face, comfortable and breathable
Size: 10*8.5cm/3.94*3.35in
Packing List:
5*3D Support Bracket
Additional information
| | |
| --- | --- |
| Weight | N/A |
| Dimensions | N/A |
| Color | 10pcs, 5pcs |
| Brand Name | NoEnName_Null |
| Origin | CN(Origin) |
| is_customized | No |
| Material | Plastic |