Hydro Jet 360° Power Shower Head
#

1

best sellers
in
Kitchen
last month.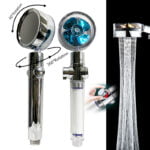 Hydro Jet 360° Power Shower Head
days
:
hours
:
minutes
:
seconds
days
:
hours
:
minutes
:
seconds
56
orders in the last
30
days.
Enter code:
SUMMERSALE
to save
4%
.
Can only be used before 2022-04-30
Minimum spend required: $24.99
Description
Reviews (99)
Video
Description

Experience the worlds newest Hydro Jet 360° Power Shower Head that can turn your home shower into a spa like experience instantly!

If you're looking for a shower head that not only saves water but also provides a refreshing high pressure spray, then the Hydro Jet 360° Power Shower Head is perfect for you! This innovative product features a 360 degree rotating design that gives you full coverage, along with a small fan to keep you cool. Made from durable ABS plastic, it's easy to install and perfect for any bathroom.

Features:
High-Pressure Design
Our Shower head makes water flow generates a pressurized flow through the rotating wheel, increasing the speed of the water flow, thereby increasing the water pressure.
Water-Saving
Our Shower head uses micro nozzle technology makes the outlet holes smaller and denser, increasing the speed of the water flow, At the same time Up to 40% water saving than ordinary shower heads.
MASSAGE-EFFECT
The shower head dispenses water in the form of a net water jet that gently touches your body while showering. Relaxes the muscles, promotes blood circulation, and improves the appearance of the skin.

360° ROTATION FREE SPIN
The power shower head can rotate 360° and swing up/down. This allows you to adjust it flexibly and take a shower without having to hold the shower head in your hand.
ON/OFF SWITCH
The push-button allows you to stop the flow of water from the shower head and lather up with your favorite shower bath at your leisure. It couldn't be easier!
EASY & QUICK INSTALLATION
Installing the power shower head is as quick and easy as any other shower heads. Everything you need is in the package.
PP Cotton Filter
Our PP cotton filter significantly reduce chlorine and fluoride, toxins, heavy metals, bacteria, pesticides, rust and odors in the shower water, enhance water purification and maintain water pH balance.

Specification:
Material: 304 Stainless Steel + Polyethylene (PE)
Size: 3.6 x 10.7 inches (9 x 27 cm)

Package Included:
1 x Hydro Jet 360° Power Shower Head
1x PP cotton Filter