Lazy Rrader Glasses
#

2

best sellers
in
Gift
last month.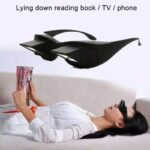 Lazy Rrader Glasses
$19.99
$19.99
107
orders in the last
30
days.
Enter code:
SUMMERSALE
to save
4%
.
Can only be used before 2024-03-31
Minimum spend required: $24.99
Description

Read at a 90º Angle
Quit straining your neck while you read – with the Lazy Rrader Glasses you can lie down on your comfortable bed and still be able to enjoy a good book or magazine. The lazy glasses use a clever prism design to let you recline and look forward at the same time.

Lazy Rrader Glasses are becoming a very popular product for people who regularly watch TV or read in bed. Lying in a horizontal position and looking at a screen or book can cause strain in your neck and shoulders while your head propped up on pillows. Lazy glasses are a simple solution to help you look forward while lying in a comfortable position.

What are lazy Reader glasses?
Lazy Rrader Glasses are special glasses that use mirrors to change your view to a 90-degree angle. They allow you to read a book, watch TV, or use your laptop while lying down without tilting your head.

FEATURES:
IDEAL FOR USER: 100% High definition periscope glasses. Can be worn over spectacles. Used for both youngsters and old people, great for the bedridden and hospital patients.
PROTECT YOUR EYES AND SPINE- The Lazy Reader glasses help you read books and watch TV shows without moving your head, It is helpful for you to protect your cervical vertebra, Prevent neck pain and eyestrain.
HIGH QUALITY: WEKSUN lazy Glasses are made with high definition glasses and high quality reflecting prism which brings clear and bright images, enables people in a supine position to see objects in the front. Hi-tech glasses protect you from radiation. To keep people's physical and mental health is extremely beneficial.
EASY TO APPLY: Read a book without eye fatigue, precisely aligned glass prisms show half a page of an average hardcover book or physical strain or watch TV in horizontal comfort.
GOOD SERVICE: If you have some questions about the glasses, pls feel free to contact us, we will reply to you ASAP.

Specification:
Suit for: Men, Women
Frame Material: PC
Lens Material: Glass
Package Include:
1* Lazy Rrader Glasses