Metal Ladybug Flower Pot
#

1

best sellers
in
Outdoor
last month.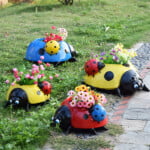 Metal Ladybug Flower Pot
days
:
hours
:
minutes
:
seconds
days
:
hours
:
minutes
:
seconds
79
orders in the last
30
days.
Enter code:
SUMMERSALE
to save
4%
.
Can only be used before 2022-04-30
Minimum spend required: $24.99
Description

This adorable Metal Ladybug Flower Pot is a great way to add some fun and whimsy to your garden or flower bed. It's also perfect for bringing a touch of nature indoors, as a tabletop decoration. Made of sturdy metal, the ladybug has been finished in an antique black with red and green accents. She's just the right size for holding a small potted plant, succulent, or air plant.

FEATURES:
💐🐞Adorn your front yard or outback garden with these cute, lady-bug-flower pot-themed lawn ornaments. Delight your kids and brighten up your garden with these farmhouse garden decorations.
🐞Charming metal garden art bugs can be outdoor table decor or can be fastened to trees, the porch, the fence, or the side of the flower, side tables( hook includes)
🐞This cute ladybug wall art is the perfect addition to the patio, backyard, gardens, walkways, or entrances
🐞Packaged by high-quality independent brown kraft gift box. a perfect gift just right for almost any occasion, Each piece are under inspection before shipment
🐞Beautifully bling color, especially under the sunshine, high-quality hand painting coat for the ultimate durability and rust protection

Specifications:
Material: Resin
Weight: about 300g
Application: Home,Living room,Office,Shelf,Bookshelf,Table,Garden,Tree,Desktop, Halloween,Party

Package Included:
1 * Metal Ladybug Flower Pot