Ornate Hair Clippers
#

3

best sellers
in
Beauty
last month.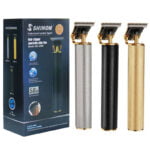 Ornate Hair Clippers
days
:
hours
:
minutes
:
seconds
days
:
hours
:
minutes
:
seconds
80
orders in the last
30
days.
Enter code:
SUMMERSALE
to save
4%
.
Can only be used before 2022-04-30
Minimum spend required: $24.99
Description

WANT TO GET A PERFECT AND HAIR-SHARP TRIMMING EXPERIENCE WITHOUT HARD EFFORTS AND EXPENSIVE SALON VISITS?
Achieve remarkable professional-looking designs and precision for your hair and beard with the amazing Ornate Hair Clipper, featuring ultra-sharp precision trimming blades to provide you with the best styling possibilities.

It features 3 bold color choices to accompany your style and personality!
Features sharp and smooth metal blades, which can cut off hair easily and quickly and help you to create a variety of hairstyles. Blade narrow cut carbon steel T blade for cracking, styling, and dry shaving – no cracks.
It's an amazing stylized clipper for every professional or up-and-coming stylist. Get astounding precision haircuts and styles with the razor-sharp Ornate Hair Clipper.

Features:
Low Noise
Stronger power and less noise. It is powerful and sharp, captures and cuts hair evenly, is fast and labor-saving, with minimal noise control at the same time.
No Skin Irritation
The R-shaped round blade is in gentle contact with the skin to avoid accidental damage to the surface of the skin, it is suitable for oil head, trimming, and carving hair shape.
Rechargeable
1200mAh Lithium-ion battery delivers over 120 minutes of nonstop run time; charges in just 2 hours. The LED light can indicate battery power levels.
Portable
Small size which can be carried around, providing a comfortable grip. Easy to hold in hand this will be the only trimmer you will need in your arsenal. Adopts constant speed technology, won't drag or stall through heavy and thick hair types
IPX7 Waterproof
100% IPX7 waterproof hair trimmer allows you to clean in running water quickly, easily clean the machine after each use to keep it neat.
Long battery life
The Ornate Hair Clipper 2 hours charge for 120 min cordless use. USB Type-C charging port, you can connect USB adapter, laptop, car charger, power bank, and other USB powered devices, perfect for travel.
4 Guide Combs
Equipped with 4 kinds of guide combs(1mm,2mm,3mm) of different lengths, suitable for trimming inch head, pattern, et. Trim or transition without potholes. S-shaped obtuse angle 360 n-friendly is not easy to scratch the skin.
Specifications:
voltage:100-240v,50/60Hz
colors:black,gold,silver
blade can be zero gapped
use:cord/cordless
blade: stainless steel
Charger: USB charging
indacition light display:charging reminder
charging time: 2 hours
working time: 2 hours
warranty:2-years
Package Included:
1 * Ornate Hair Clipper
1 * cleaning brush
1 * User Manual
1 * charger
1 * battery
4 * limit combs
1 * packing box