Pelvic Pillow™ – Orthopedic Leg Pillow With Memory Foam
#

2

best sellers
in
Health
last month.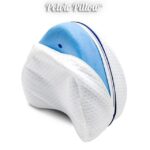 Pelvic Pillow™ – Orthopedic Leg Pillow With Memory Foam
days
:
hours
:
minutes
:
seconds
days
:
hours
:
minutes
:
seconds
116
orders in the last
30
days.
Enter code:
SUMMERSALE
to save
4%
.
Can only be used before 2022-04-30
Minimum spend required: $24.99
Description
Additional information
Reviews (93)
Description

The Pelvic Pillow™ Rest Triangle is the world's first anatomical cushion in a triangle shape with a position memory effect that helps you with your back problems, sleep on your side, and solve the root cause of those problems. It lines up your spine along with your hip and knees, stabilizing your posture while resting. Another factor the rest triangle helps you with is relieving pressure from head to toe by reducing inflammation on the central nervous system.

It gives your body its natural posture back by contributing to the perfect functioning of your vital organs. The PelvicPillow™ Rest Triangle is specifically designed for:
Scoliosis, herniated cervical, and dorsal disk.
Sciatica, low back pain discomfort, hip deviation, or hip problems.
Post-surgical in hip, knees, and back surgeries to release pressure and soothe the pain.
Arthrosis and arthritis.
Neck straightening and cervical problems.
Migraines, myalgia, and headaches.
Fibromyalgia.
Pregnant women.
Athletes and sportspeople, whether professional or amateur.

FEATURES:
EDUCE BACK, HIP, LEG, KNEE & SCIATICA NERVE DISCOMFORT- As a side sleeper, you don't sleep perfectly straight. Your top leg drops in front of you, putting pressure on your back, your hip joints twist & your knees touch, causing pain. The Pelvic Pillow is the best Pelvic Pillow cushion for those looking for relief. The cushion comfortably supports your legs & knees to provide proper sleeping alignment & positioning to eliminate those painful pressure points.

THE ONLY LEG PILLOW THAT SUPPORTS BOTH YOUR LEGS & KNEES – The Pelvic Pillow was invented to help reduce the pressure that occurs from bad sleeping posture, which causes discomfort. Years later, we realized that cushioning & supporting BOTH your legs & knees are important in maintaining proper alignment to reduce pain.

VENTILATED MEMORY FOAM ALLOWS AIR TO CIRCULATE FOR A COOLER NIGHTS SLEEP – Unlike traditional memory foam Pelvic Pillow designed to absorb your body heat to compress, the designed with ventilated air holes in the memory foam that promote air circulation throughout the night. The temperature regulating foam technology pushes the heat outwards away from your body to prevent you from feeling like you are overheating.

SLEEP COMFORTABLY IN ANY POSITION & MOVE FREELY THROUGH THE NIGHT – Unlike traditional knee pillows, features a truly ergonomic design with its soft curves & crescent shape to fit men & women comfortably. Without requiring hazardous, circulation restricting straps, the precise tether of the pillow contours to fit the natural shape of your legs. This allows the foam Pelvic Pillow to contour to your shape without restricting movement or requiring you to sleep in a certain position.

USE 2 PELVIC PILLOW FOR FULL & TOTAL LEG SUPPORT – For even better support and comfort, you can use 2 of the orthopedic pillows for total leg alignment & support & improved relief for your hips, lower legs & knees. This ergonomic contour Pelvic Pillow's unique shape allows you to fit forPelvic Pillow comfort, but then you can reverse it and place it between your calves for lower leg comfort & support.

Specification:
Color: White
Size: 25 x 23 x 15.5cm
Body: Ventilation Air Hole Memory Foam
Package Included:
1 Pcs Pelvic Pillow™
Additional information
| | |
| --- | --- |
| Weight | N/A |
| Dimensions | N/A |
| Color | 1pcs Blue Pillow, 1pcs White Pillow |
| Origin | CN(Origin) |
| Fabric Count | 80 |
| Shape | Wedge |
| Use | Bedding |
| Material | 100% Cotton |
| Grade | Grade A |
| Set Type | yes |
| Model Number | Orthopedic Knee Leg Wedge Pillow |
| Feature | Massage |
| Weight | 0-0.5 kg |
| Brand Name | None |
| Function | Orthopedic Knee Leg Wedge Pillow |
| Type | Pregnancy Body Memory Foam Pillow |
| Part | Body |
| Pattern Type | DOT |
| Filling | Memory Foam |
| Thread Count | ≥600TC |
| Type 1 | Foot Cushion |