Solar Waterfall Lights
#

1

best sellers
in
Outdoor
last month.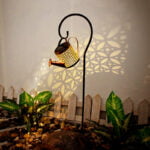 Solar Waterfall Lights
$29.99 – $32.99
days
:
hours
:
minutes
:
seconds
$29.99 – $32.99
days
:
hours
:
minutes
:
seconds
27
orders in the last
30
days.
Enter code:
SUMMERSALE
to save
4%
.
Can only be used before 2022-04-30
Minimum spend required: $24.99
Description
Reviews (17)
Video
Description

These Solar Waterfall Lights are an amazing addition to your garden! Not only do they look beautiful, but they also water your plants for you. The light sensor will activate the LEDs at night, and the water flow will keep your plants healthy and hydrated.

FEATURES:
🌈Solar Power Garden Light🌈 equipped with sensitive light sensor as well as high quality and durable ABS material, LED lights will neither get faded or deformed. Solar-powered supply design is energy-saving. Charging automatically in the daytime and light up at night, Vast improvement solar panel absorbs energy quickly. Please note, the solar panel needs direct sunlight so please find a place that has direct sunlight to place the solar panel. Shady spot like under the tree is not a suitable spot.
It doesn't cost your electricity bill and it has rechargeable battery inside. Decorate your fence, patio, balcony, garden arch, arbor, gazebo so your home looks amazing at night and make you happy. You will love these lights! They add a touch of magic to the dark nights. You smile every time when you look at them.
🌈Easy to Use🌈 Their installation is a breeze. Please assemble the stake and put the lantern on. Once you have your solar panel set up at a place that has direct sunlight – The switch set to "ON". The sun will power them indefinitely, then the lights will automatically come on at dusk to provide outdoor lighting exactly where you want it. If it is rainy for many days, please turn the switch to "OFF" to prolong the lifespan of the battery.
🌈Top Gift Idea🌈 Great gift for Christmas, Birthday, Holiday, Thanksgiving, Halloween, Mother's Day and this mobile wind chime would make a great gift for a Yankee Swap, housewarming, etc.

Specifications:
Size: pot diameter 11cm, height 13.5cm, Total 80cm.
Material: iron
Solar Panel: polycrystalline: 2V 120mah
Battery: 1.2V 600mah AA battery
Number of LEDs: 36 silver wire lights
Light color: warm light

Package Included:
1 * Solar Waterfall Lights