Bendable Spiral Cable Saver 6PCS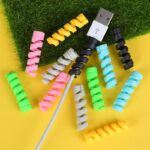 Bendable Spiral Cable Saver 6PCS
$9.99
$9.99
32
orders in the last
30
days.
Enter code:
SUMMERSALE
to save
4%
.
Can only be used before 2024-03-31
Minimum spend required: $24.99
Description

The Best Universal Cable Saver! Protective & Organized at once!

Specially designed for all gadget needs. It effectively protects any type of charger cables, such as iPhones, Android and other Smartphones, computers, USB-powered devices, etc.

Cell Phone Cord Protector designed to protect your charger cables, cords such us Lightning, USB-C, micro USB devices and prevent the cable ends from ever breaking, fray fix or detaching again.

This Bendable Spiral Cable Saver protects cables by adding strength to cable endings so the outer layer and wires beneath would not incur dents or be easily pulled out from the cable connector!

Features:
Protection: Designed based on the concept of a spiral surround, the Cable Saver Protector is designed to protect the cable, and prevent the cable ends from ever breaking, fraying, or detaching again.
Materials: Cable saver made from highly flexible eco-friendly plastic. iPhone Charger Protector is easily attached to cable ends.
Color: Cable Saver Protector is available in a range of color combinations. 4 iPhone Cord Protectors are included in each pack.
Compatible: Cord saver suitable for use on the majority of computer and smartphone cables, including iPhone lightning cables, Apple Watch cables, micro USB cables, USB-C cables, and other cords.

Specifications:
Material: PVC
Length: 3.5cm
Color: Black, Yellow, Pink, Blue, Green

Package Includes:
Bendable Spiral Cable Saver x 6