Matching Butterfly Rings Set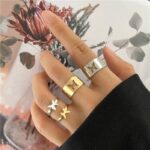 Matching Butterfly Rings Set
$14.99 – $19.99
$14.99 – $19.99
76
orders in the last
30
days.
Enter code:
SUMMERSALE
to save
4%
.
Can only be used before 2024-03-31
Minimum spend required: $24.99
Description
These are the perfect rings for you and your partner
Are you struggling to find the perfect gift idea for your loved one? These Butterfly couple rings might be the right gift for you and your partner! The man's promise ring has a tiny butterfly cut out of the front, while the lady's version has the 'missing piece' sitting on the top.

Our sleek and minimal design matching butterfly rings that our rings can be worn for any occasion
These golden butterfly rings are elegant, classic, and simple in design, low-key luxury, and connotation. The hollow butterfly seems to be inlaid inside the ring. Whether it is gold or silver, it is very sensational.

Matching Butterfly Rings Meaning
The butterfly symbolizes freedom and beauty. Caterpillars emerge from their cocoons and become butterflies, which means a sublimation from ugliness to beauty. Butterflies also symbolize some successful images. The butterfly is the most beautiful insect. It is known as the flying flower and the beauty of the insect country. It is a symbol of elegant culture. Traditional Chinese literature often regards flying butterflies as a symbol of free love and expresses people's yearning for free love. And pursuit.

Features:
🦋 Butterfly Ring Set: There are two rings in each set, gold rings set and silver rings set; The butterfly rings are unisex
🦋 The butterfly rings are made of titanium steel, light in weight and comfortable to wear, lead-free and nickel free
🦋 The wide chunky butterfly ring is adjustable ( easy to adjust ), another dainty butterfly ring is a regular size that fits most of the women and girls' finger
🦋 Each matching butterfly rings set are packed in soft velvet bag, Ideal gift for Birthday, Mothers' Day, Graduation Season, Girlfriends, Boyfriends, Engagement, Anniversaries, Valentine's Day, Wedding, Christmas, or any special day you want

Specification:
Size: Resizable
Color: Silver & Gold
Details: Butterfly
Material: Copper