Multifunctional Rearview Mirror Phone Holder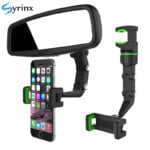 Multifunctional Rearview Mirror Phone Holder
days
:
hours
:
minutes
:
seconds
days
:
hours
:
minutes
:
seconds
78
orders in the last
30
days.
Enter code:
SUMMERSALE
to save
4%
.
Can only be used before 2022-04-30
Minimum spend required: $24.99
Description
Reviews (30)
Video
Description

Mount your smartphone devices securely on to your rear view mirror
This phone holder will securely clip your phone with confidence and no difficulties.

This multifunctional rearview mirror phone holder is perfect for hands-free driving. The phone holder can be rotated 360 degrees to fit any size phone, and the built-in rearview mirror ensures that you can always see what's behind you. The phone holder also has a GPS navigation system that makes it easy to get around town.

FEATURES:
Easy to install, not easy to shake off.
Upgraded version, can be placed in the back seat, used in multiple scenarios.
Applicable to most mobile phones on the market.
Adjustable Angle,Car phone holder can rotate 960° to meet the needs of different sight lines; Meanwhile, it also supports horizontal and vertical screen switching, the navigation angle can be adjusted at will, which is
convenient for you to plan your route and drive better.
Adjustable Width: which apply for various types of mobile phones, you can adjust according to your needs.
Suitable For Any Occasion: you Can also be installed in car seats, kitchens, bedrooms, which is convenient for you to study, work, and pass boring time.

Specifications:
Applicable mobile phone width size: 50-100mm (1.96-3.93 inches)
Clip distance: 3-21mm (0.11-0.82 inches)
Color: green/gray
Produce Size: about 19cm/7.48 inch in length( 14.6*5.5*2.6cm )

Package Included:
1 * Multifunctional Rearview Mirror Phone Holder