Surprise Lollipop Gun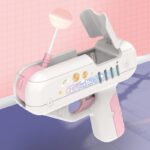 Surprise Lollipop Gun
$15.99
$15.99
52
orders in the last
30
days.
Enter code:
SUMMERSALE
to save
4%
.
Can only be used before 2024-03-31
Minimum spend required: $24.99
Description

Perfect gift for both kids and adults!
Show your love in an unusual way! Simply pull the trigger and the Lollipop gun and show your love. The Surprise Lollipop Gun is a Fun and Cute toy that "shoots" out a Lollipop. Simply insert a lollipop of your choice into the barrel and make sure it's quite secure.

Pull the trigger to shoot and Pull it again to put it back inside. It's so simple and easy to use.
Pull the trigger with sweet words! The Surprise Lollipop Gun gives a sincere and meaningful surprise to your loved ones. Amaze your friends and family!

FEATURES:
Special Design: A lollipop pops out and makes a Wow, I love you! sound. Two colors of Lollipop Gun are available, pink and purple. The rounded arc will no longer hurt your skin while playing.
ABS Material: The Lollipop gun toy is made of ABS plastic, strong and durable, safe and non-toxic, without sharp corners on the surface, and will not harm children's skin.
Creative Toys: The operation is very simple, you only need to install the lollipop, and then pull the trigger, the lollipop gun toy will flash and make a Wow, I love you! sound. After pulling the Candy Lollipop Gun toy again, the candy will quickly return to the storage box. Surprise your friends!
Best Gift: This toy is very special, launch a lollipop for your favorite people and give them a sweet surprise. The best gift for kids and friends to make them happy. suitable for any!
Specification:
Material: ABS.
Color: pink, purple.
Size: 14*12CM.
Package included:
1x Surprise Lollipop Gun.