Wheel Led Lights – 4 PCS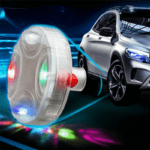 Wheel Led Lights – 4 PCS
days
:
hours
:
minutes
:
seconds
days
:
hours
:
minutes
:
seconds
115
orders in the last
30
days.
Enter code:
SUMMERSALE
to save
4%
.
Can only be used before 2022-04-30
Minimum spend required: $24.99
Description

These LED Valve Stem Lights are the perfect addition to your car, bike, or motorcycle. The motion-activated lights automatically turn on when the vehicle moves, and they're perfect for safety at nighttime, bad weather, and simply looking cool. Simply screw it onto the tire valve to install it, and enjoy the super-bright, energy-saving, long lifespan of LED.

Features:
INTELLIGENT CONTROL SYSTEM: Our solar Wheel Led Lights is a built-in motion-sensitive control system, in a dark environment, the speed of more than 25 km /h self-flash, remind car or pedestrian of avoidance, reduce or avoid traffic accidents. Less than this speed, 2 seconds after the automatic closure. In the bad weather, it can even serve as a warning, the safety factor will be greatly improved. what cool car accessories they are!
HIGH QUALITY AND WATERPROOF: Waterproof Wheel Led Lights for cars is used high-performance silica gel, which is resistant to corrosion, aging, high and low temperature, Waterproof performance is extremely good, can avoid the high-pressure water gun washing the body caused by damage.
EASY TO INSTALL AND REMOVE: The button switch type of led lights for car tires turns on and off the power and changes the lighting mode only by pressing the button on the light. After the first time, it is turned on, there is no need to operate the light again for the next use. Under the condition of sufficient power, driving at night The lights will light up automatically. Generally used for bicycles, motorcycles, cars, SUVs and trucks, US standard air faucet.


EFFICIENT AND ENVIRONMENTALLY FRIENDLY: This Solar Car Wheel Tire Air Valve Cap Light is Solar charging, automatic fast charge, charging in the sun for more than 3 hours before use, lithium battery storage, no wiring, no maintenance, no need to replace the battery.
TRAFFIC WARNING AND VEHICLE DECORATION: The Car Wheel Air Valve Cap Light is installed in the position of the tire valve of the car, and the light function is automatically turned on when the speed exceeds 5 KM / at night, which can remind vehicles and pedestrians to avoid sideways, reducing or avoiding traffic accidents. When the vehicle is driving, the light can emit brilliant light with rotation.
Specifications:
Model Name: Wheel Led Lights
Light Source: LED
Material Type: Plastic
Wattage: 1w
Voltage: 6V
CarModel: for Audi A4,Accent,Accord,Astra,Asx,Camry,Civic,Corolla,Cruze,E39,E46,Elantra,Focus,Forester,Honda CRV,Impreza,K2,Mazda 3,Mazda 6,Octavia,Qashqai,Rio,Swift
Year:2016
Special Features: Solar wheel lamp
External Testing Certification: CE
Item Type: Warning Lights
Item Diameter: 4.4 cm
Item Weight: 0.5 kg
Color Temperature: 3000k
Packing includes:
4pcs Wheel Led Lights