Finger Mini Skateboard 10PCS
#

1

best sellers
in
Toy
last month.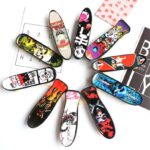 Finger Mini Skateboard 10PCS
days
:
hours
:
minutes
:
seconds
days
:
hours
:
minutes
:
seconds
110
orders in the last
30
days.
Enter code:
SUMMERSALE
to save
4%
.
Can only be used before 2022-04-30
Minimum spend required: $24.99
Description
Additional information
Reviews (12)
Description

Test your mad finger boarding skills!
Looking for a unique toy that can play for hours and stimulate children's imagination and creativity?

Finger Mini Skateboard toy set can provide children with another fascinating choice to enjoy the fun without screen.
Finger Mini Skateboard is a good gift for beginners (as children's early education toys), sports enthusiasts and skateboard enthusiasts.

We encourage children to use this skateboard kit toy to carry out creative fingertip movements in their own way to improve their creativity and operation ability. This is also suitable for indoor sports for children and adults, you can play with children, it will be a happy day. In addition, these fingerboard toys also make your children popular with other children in schools, holidays, themed parties and birthday parties.

Features:
Enhance your finger skateboarding skills! You can play with different finger boarding tricks! Make this your new hobby!
Finger skateboards stand use alloy material.
Front with frosted stickers, special non-slip and feel good.
Skateboard bottom pattern using transfer printing technology.
Feel like a pro on tour with four complete fingerboards to choose from.
Create some amazing stunts with these awesome fingerboard mini skateboards.

Specifications:
Fashion design,100% Brand New,high quality!
Material: ABS plasitc
Size: 10*2.8cm
Package include:
10pcs Finger Mini Skateboard(Random Color)
Additional information
| | |
| --- | --- |
| Weight | 3.5274 oz |
| Dimensions | 5.1181 × 5.1181 × 1.1811 in |
| CE | Certificate |
| Warning | No eatting |
| Age Range | 8-11 Years |
| Feature 1 | Finger Skateboards |
| Feature 3 | Fingerboard Skate Boarding Toys |
| Dimensions | 10*2.8cm |
| Feature 2 | Fingerboard Toys |
| Material | Plastic |
| Feature 5 | Desk Toys |
| Item Type | Finger Skateboards |
| Feature 4 | Skate Boarding Toys |
| Model Number | Finger Skateboards |
| Feature 7 | Finger Scooter Skate Boarding |
| Feature 6 | Classic Chic Game Boys |
| Certification | CE |
| Feature 9 | Finger Board |
| Feature 8 | Mini Skateboards |
| Brand Name | FoPcc |
| Barcode | No |
| Plastic Type | PC |
| Feature 10 | Toys for children |