Portable Cactus Humidifier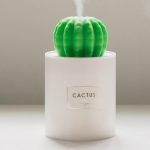 Portable Cactus Humidifier
$24.99
$24.99
85
orders in the last
30
days.
Enter code:
SUMMERSALE
to save
4%
.
Can only be used before 2022-04-30
Minimum spend required: $24.99
Description
Additional information
Reviews (41)
Description
Dry stuffy air? Perch our Mini Cactus Humidifier on your night table or desktop for a refreshing continuous cool mist.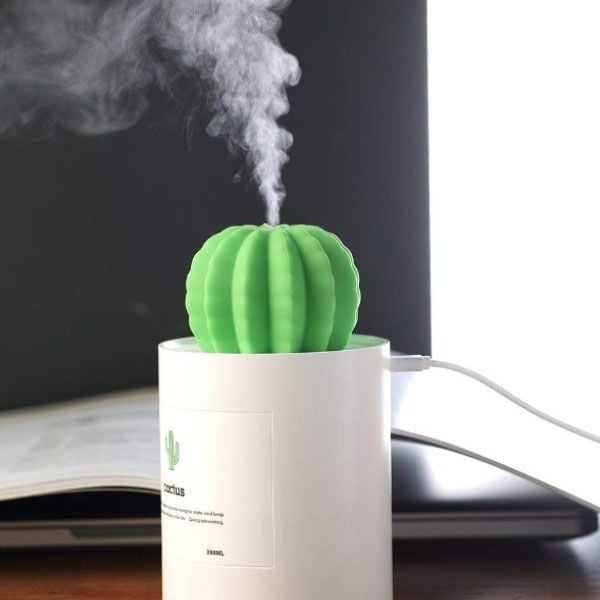 THE BEST TRAVEL HUMIDIFIER MINI HUMIDIFIER FOR ALL YOUR NEEDS:
Most hassle-free, worry-free, trouble-free, and portable personal humidifier on the market today.
It can soften and moisten dry and chapped skin in winter. Use as mister during summer or hot weather. Or even as a moisturizer for your hands by holding hands over mist. It also helps you breathe better when you are sleeping with air conditioner on.

Portable Cactus Humidifier is the perfect humidifier for plant lovers! It is adorable and fits perfectly well in any setting! Be it your urban jungle, office, bedroom, or kid's bedroom.
Add Any of Your Favourite Essential Oils To The Water and Use It As An Aromatherapy Diffuser As Well!
Say Good-Bye to Dry and Sensitive Skin with Our Amazing Ultrasonic Humidifier! Perfect for Kids, Office Workers, and Plants. 💧
Your Eyes and Nose Will Stay Moisturized and Your Skin will Look Better Than It Ever Doses In the Winter! 🙆🏻
Features:
✅Mini USB humidifier adopted ultrasonic technology,whisper-quiet, humidifiers for the bedroom; you can breathe easy and get more restful sleep high
✅Auto Shutdown Technology:4 hours automatic power-off protection, Auto shut-off when water tank is low to protect the humidifier is the motor and increase durability and safety.
✅The personal care cute humidifier can hold up to 280ml of water,50ml/h spray volume, increase the humidity of the air, create a comfortable living environment.
✅Small humidifier, you can connect computers, laptops, portable chargers, and other devices with USB output.
✅Ideal for car humidifier, desks and bedrooms, and travel, the portable size was easy to take anywhere. And also a perfect gift idea for family and friends
Easy to use:
(1)Insert the small end of the small Cactus  humidifier stick V2 downward into an empty cup or water bottle.
(2) Fill up the cup or bottle with as much cool or cold water as you like.
(3) Using a USB cord, plug humidifier into a USB power port.
(4) Press on the switch to open the mist mode, enjoy cool mist coming from the wide top of the humidifier!
Specification:
Material:ABS+PP+Silicon
Voltage:DC-5V
Power:2W
Mist Volume(Average)
Humidification:50ml/h
Capacity:280ml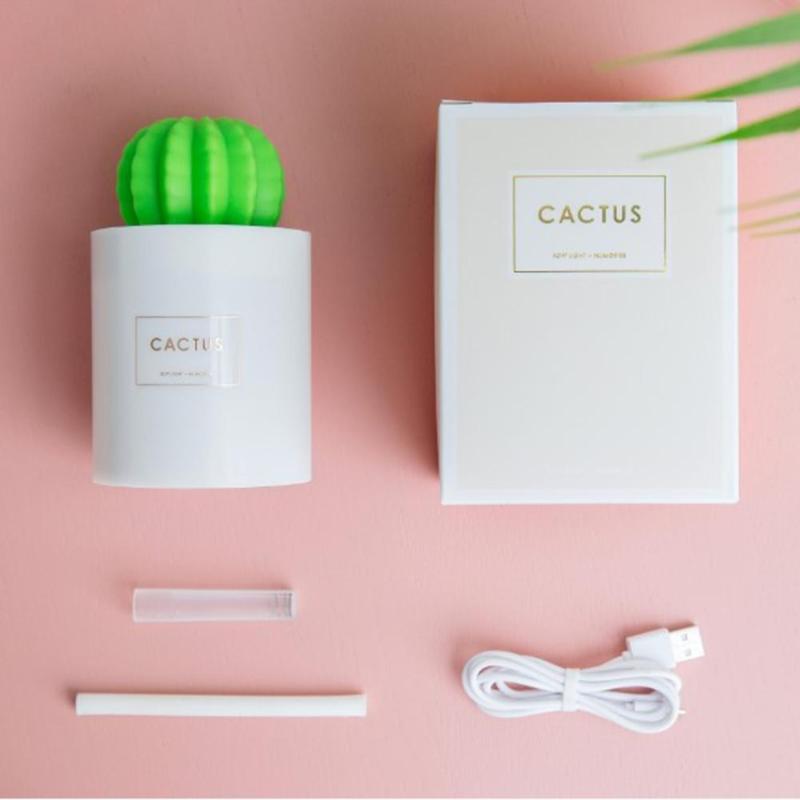 Package Include:
1 x mini humidifier
1 x USB cable
1 x Instructions
2 x humidifier stick
Additional information
| | |
| --- | --- |
| Weight | N/A |
| Dimensions | N/A |
| Color | Grey NO Light, Pink NO Light, White with Light |
| Shape | Other |
| Humidifying Capacity | 30ml/h |
| Noise | <36db |
| Time to market | 2017 |
| Feature 1 | Aroma Diffuser |
| Timing Function | Yes |
| Feature 3 | Air humidifier USB |
| Feature 2 | Air Humidifier Essential Oil Diffuser |
| Feature 5 | Aromatherapy Humidifier Diffuser |
| Feature 4 | Essential Oil Diffuser |
| Feature 7 | Portable LED Air Humidifier Essential Oil Diffuser |
| Feature 6 | Mini USB Air Humidifier |
| Feature 8 | USB Aroma Essential Oil Diffuser |
| Function | Water Atomizer |
| Humidity Control | Touch-tone |
| Capacity | 280ml |
| Classification | Humidification |
| Style | Color Light Humidifier |
| Power Type | USB |
| Installation | Mini |
| Water-shortage Power-off Protection | Yes |
| Power (W) | 1.5-2W |
| Use | Household |
| Voltage (V) | 5V |
| Model Number | Air Humidifier |
| Certification | ce |
| Brand Name | alloet |
| Operation Method | Keyboard Type |
| Type | Cool-Mist Impeller Humidifier |
| Humidification Method | Mist Discharge |
| Mist Outlet Quantity | One/a |
| Application | 11-20㎡ |