Retro FC Handheld Game Console Built-in 168 in 1
#

1

best sellers
in
Toy
last month.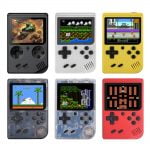 Retro FC Handheld Game Console Built-in 168 in 1
days
:
hours
:
minutes
:
seconds
days
:
hours
:
minutes
:
seconds
86
orders in the last
30
days.
Enter code:
SUMMERSALE
to save
4%
.
Can only be used before 2022-04-30
Minimum spend required: $24.99
Description
Additional information
Reviews (16)
Description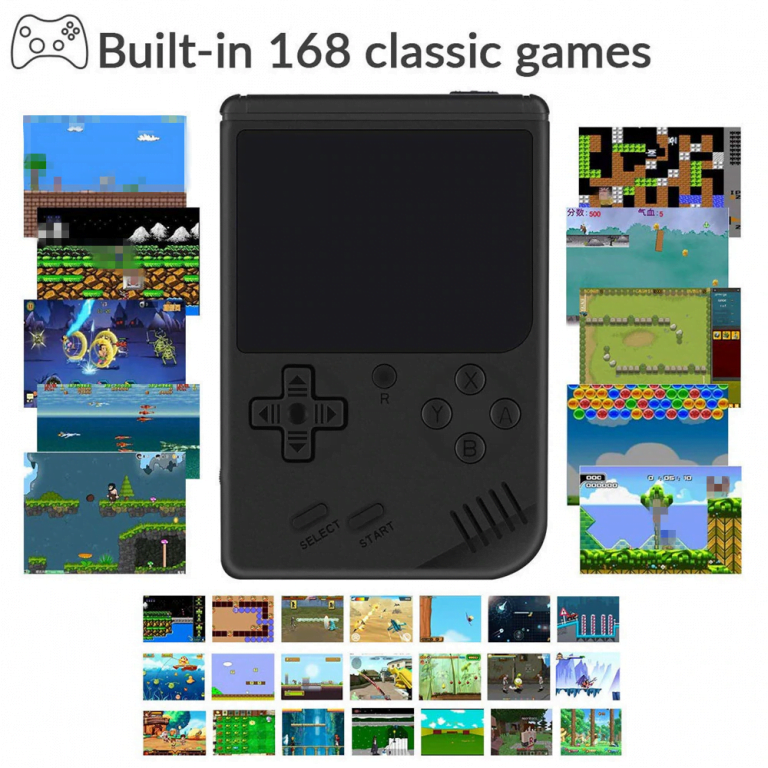 Relive your childhood with the new retro FC pocket game console. This console includes classic games such as Super Mario Bro, Donkey Kong, Pacman, and many more. Rediscover your old favorite game or experience other classics for the first time.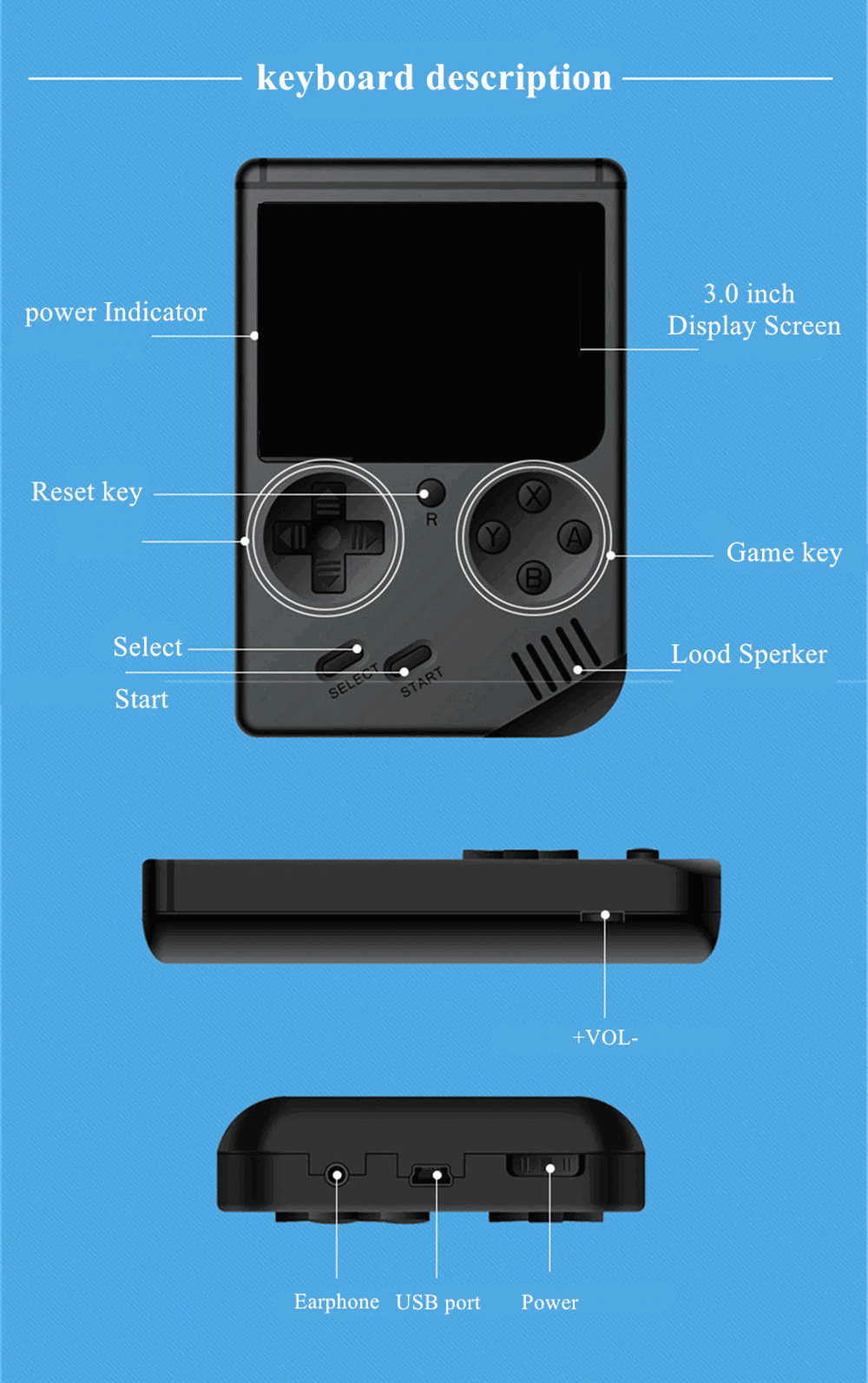 Feature:
✅ Built-in up to 168classic games. It will take you back to your childhood
✅ The digital multi-platform device can play on TV.
✅ Come with a rechargeable lithium battery and a USB cable, 6 hours of continuous gameplay.
✅ Convenient size and Lightweight, it is perfect for playing travel or on the go.
✅ If You Find Scratches On The Screen After Receiving The Retro FC, Just Tear Of The Screen Protection Film.The best birthday gift for children.
168 in 1 nes game list
Kung Fu Panda
Jackal
Turtle Fighter
Turtles 2
Silk Worm
Contra
Super Contra
Contra Force
Double Dragon 2
Double Dragon 3
Hot Blood Story
Hot Blood Wrestle
Hot Blood Soccer
Snow Bros
Guerrilla War
Chip Dale 1
Top Gun Dual Fight
World Cup Soccer
Tetris 2
Tank A1990
Street Fighter V
Tiny Toon 2
Super Mario Bros
Super Mario Bros 3
Super Mario Bros 6
Super Mario 14
Adventure Island
Adventure Island 2
Cross Fire
Jackie Chan
Jungle Book
Juuouki
Kick Master
Little Nemo Dream
Mighty Final Fight
Ninja Gaiden 2
Ninja Gaiden 3
Mitsume Ga Tooru
Plants Vs Zombies
Power Blade 2
Batman
Rockman 3
Spider Man
Tom Jerry
Pacmania
RBI Baseball
1942
80 Days
Adventures Of Dino
Adventures Of Lolo
Adventures Of Lolo 2
Aether Thgher
Aladdin 3
Angry Bird
Argus
Arkanoid
Astro Robo Sasa
Badminton
Ballistic Hayhen
Baltron
Bananna
Porter
Bicycle Race
Bokosuka Wars
Bomb
Buggy Popper
Burai Fighter
Bwings
Challenger
Chinese Chess
Chubby Cherub
Boat Race
Defiance
Destry I
Dig Dug 2
Dough Boy
Dragon
Dr. Mario
Duck
Elevator Action
Exed Exes
F1 Race
Family Jockey
Fire Dragon
Flappy
Flipull
Football
Galg
Geimos
Goodhand
Goonies
Gradius
Gyrodine
Gyromite
Gyruss
Harry Potter
Hassle
Hello Kitty
Hokutono Ken
Hovercraft
Hydlide
Ice Hockey
Keroppi No Diabo
Kung Fu
Ladangel
Lot Lot
Mach Rider
MagMax
Metro Cross
Mickey Mouse
Mighty Bomb Jack
Ms Pac Man
Music Moment
Ninja 2
Pachi Com
Pac Land
Paperboy
Pooyan
Power Soccer
The Legent Of Ka
Circus Charlie
Solomon S Key
Spartan X
TwinBee
Donkey Kong
Donkey Kong Jr
Donkey Kong 3
Bomber Man
ExciteBike
Front Line
Galaga
Galaxian
Lode Runner
Lode Runner 2
Macross
Tennis
Ice Climber
Dig Dug
Pinball
Space Invaders
Super Chinese
Field Combat
Spy Hunter
Spar
Star Force
Star Gate
Street Frenzy
Super Elf
Surface Fire
Swirl
Tactful Monkey
TNT (Bomberman with skin)
Top Shot (Galaga with skin)
UFO Race
Under World
Urban Champion
Village Protector
WarpMan
Warrior Chase
Warship
What s up
Wrestle
Wrestling champion
Yie Ar Kung Fu
Zero Gravity
Zippy Race

Specification:
Display: 3 inch TFT display
Memory: 128M
Game: support 8-bit game, built-in 168 games (a series of classic games)
Other functions: support TV output.
Battery: built-in 600mAh battery, the duration for 6 hours.
Size: 115*78*20mm/4.52*3.07*0.78"
Color: Black, White, Yellow, Clear Black, Clear White
Products include:
1 x Retro FC Game Console
1 x Charging Cable
1 x AV Cable
1 x User Manual 
Additional information
| | |
| --- | --- |
| Weight | N/A |
| Dimensions | N/A |
| Color | Black, Red, Transparent black, Transparent white, white, Yellow |
| Brand Name | FGHGF |
| Color Display | Yes |
| Display Size | 3.0' |
| Touch Screen | No |
| Package | Yes |
| Model Number | TD11 |
| Communication | USB |