Multifunctional Tactical Walking Staff
#

1

best sellers
in
Outdoor
last month.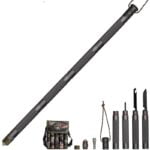 Multifunctional Tactical Walking Staff
$45.99 – $69.99
days
:
hours
:
minutes
:
seconds
$45.99 – $69.99
days
:
hours
:
minutes
:
seconds
60
orders in the last
30
days.
Enter code:
SUMMERSALE
to save
4%
.
Can only be used before 2022-04-30
Minimum spend required: $24.99
Description
Additional information
Reviews (9)
Description
This Multifunctional Tactical Walking Staff is the perfect defensive aid in the wild or the neighborhood!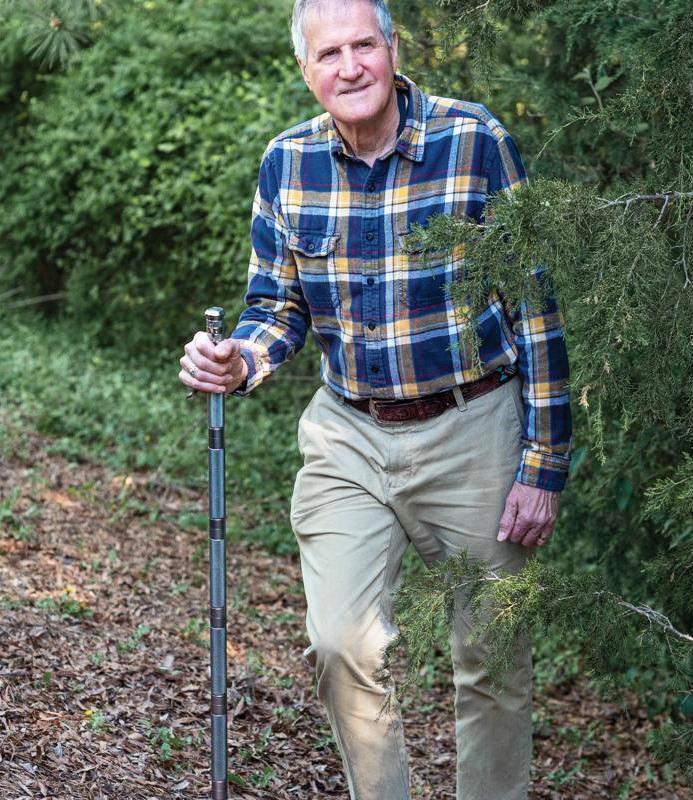 Meet Your New Best Pal on the Trail The Tactical Walking Staff. The Tactical Walking Staff is the ultimate Camping, Trekking, Hiking, and Survival tool. This isn't some cheap piece of plastic. The parts screw together tightly, and the whole thing has a kind of heft that makes it feel great in hand.
Run into a little trouble on the trail? This thing is heavy and sturdy enough to handle any situation. It works great as a simple walking Staff or trekking pole with the tools safely concealed inside.


This trekking pole comes with a pointed end tail cone cap that can be attached at the top of the Staff, which will provide auxiliary support when you walk on steep or uneven terrains. This will take off much of your bodyweight and release pressure from knees and legs.
Our Tactical Walking Staff will take off 90% of your bodyweight and release pressure from the knees and legs! Carrying Our Tactical Walking Stick Gives a Sense Of Added Protection & Personal Safety.


You can connect many tubes as you want. You can connect it according to your length preference.
It can also be used as a tracking pole. It also functions as a knife, whistle, ice ax, fork, screwdriver, and a compass! A necessary tool for outdoor activities like hiking, mountaineering, traveling, etc. Keep it always to protect yourself in emergencies!

Features:
Makes for a Perfect Survival Kit: Few different attachments would help lead your way through those dingy forests and sky-high mountains. The compass attachment will guide you towards the correct path, while the whistle can be used to call for help in emergencies. Also, the screwdriver attachment will be beneficial for looking into technical faults. These attachments will ensure that all your adventurous needs are taken care of.
Indestructible Design: Made from a super-strong material, this hiking stick will withstand the most challenging backpacking trips. The tail cone is made from tungsten steel, while the protective cap that comes along with the package is made from tear-resistant nylon fabric composite material that will protect the top of the Staff  from wearing out when not in use.
Adjustable Pole Length: The quick lock technology in this self-defense stick will allow you to adjust and lock the length of the pole according to your needs. When walking, you can shorten it down to a level where you are comfortable while you can easily lengthen it out if you need to reach out to a place where your hands cannot. Simply remove or add the pipes as and when required.
Carry it Along Wherever You Go: This portable survival walking Staff can be easily carried anywhere. This trekking pole is intelligently designed with anti-slip technology to make sure no amount of sweating makes you lose the grip on it. It is wide enough to be held comfortably on long walks and allows you to keep a firm grip around it. It will efficiently double as a defense tool as you keep it in your car for security reasons. Whenever you find yourself being threatened or attacked, you can use the stick for safety purposes.
Works in All Weather Conditions: Whether you are way up in the snowy mountains or passing through a forest during a torrential downpour, Exostik™ will be undeterred. The quality of the material doesn't degrade even in scorching heat and humid.
Long-Lasting: The tactical stick will go a long way in accompanying you on your adventure trips. The body is strong enough to withstand an adult's weight. All these features make it an essential tool for any outdoor activities.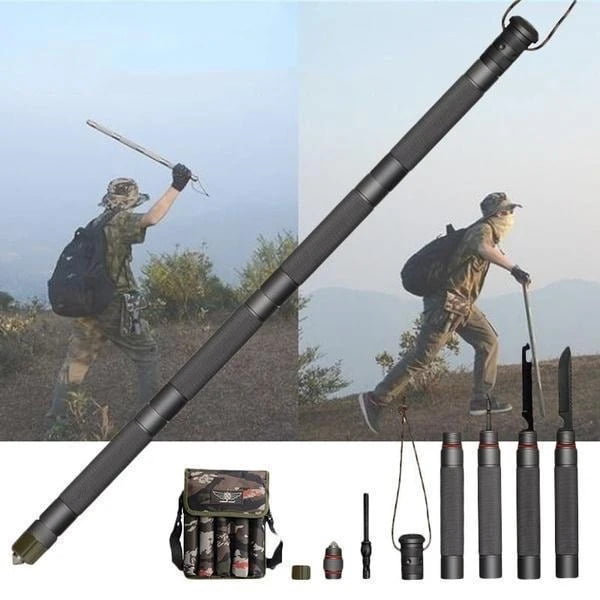 Specification:
Model: the G11
Material: aluminum alloy, auxiliary rubber, 3CR13 steel, etc.
Color: Gun grey
Functions: rod/stick/cut/splint/saw/knife/bottle opener/can opener/fish scales/harpoon/screwdriver/compass/Retention rope/survival whistle/Hammer.
Application scenarios: outdoor/car/camping/tactics/camping/adventure
/mountaineering/defense/cycling/fishing/emergency/survival tools, etc.
Size: 4 tubes are 73cm;5 tubes are 89.5cm;6 tubes are 106cm;7 tubes are 122.5cm;and 8 tubes are 139cm.
Weight: 4 tubes 0.85/1.1KG; 5 tubes 1/1.25 KG; 6 tubes 1.15/1.4 KG; 7 tubes 1.3/1.55 KG; 8 tubes 1.45/1.7 KG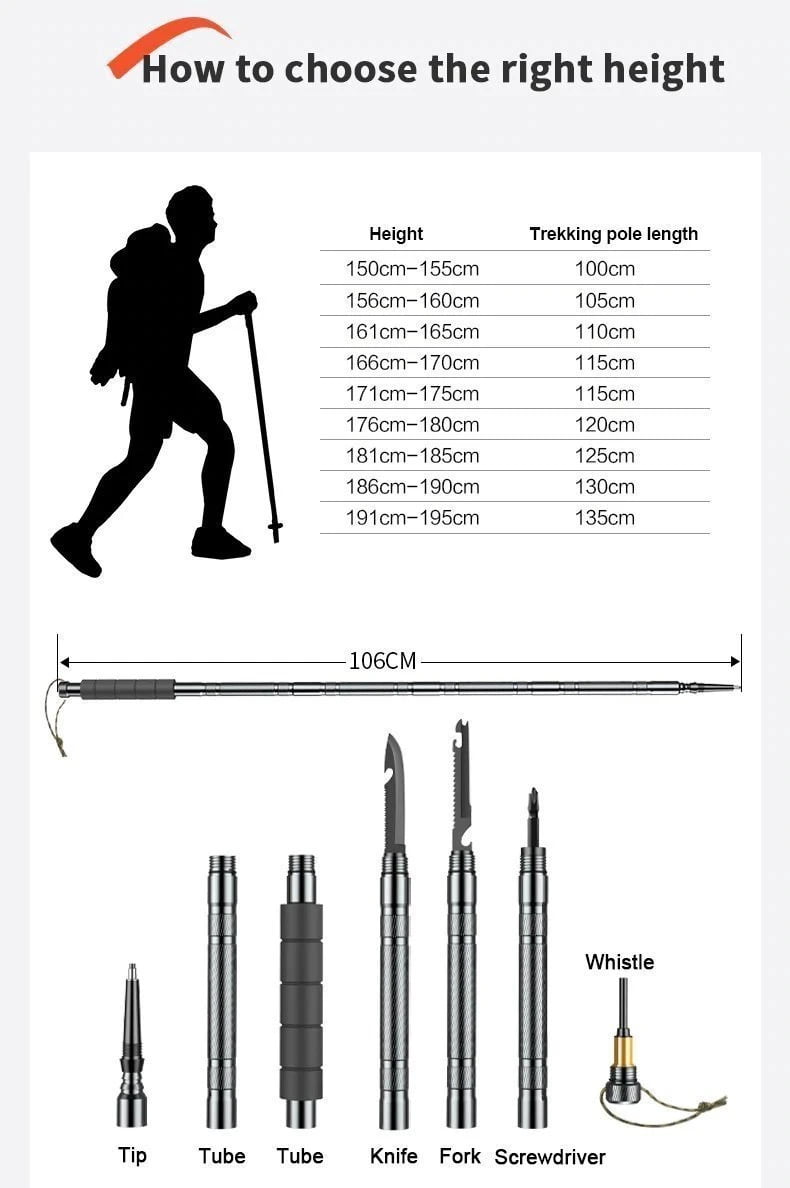 Additional information
| | |
| --- | --- |
| Weight | N/A |
| Dimensions | N/A |
| Color | 4 Tubes, 5 Tubes, 6 Tubes, 7 Tubes, 8 Tubes |
| Stick Tip | Carbon Tungsten Steel |
| Outdoor Activity | Mountain-climbing |
| Damping System | Rubber |
| Joint Number | 4 |
| Material | 3CR13 steel, aluminum alloy, auxiliary rubber, etc. |
| Model Number | G11 |
| Handle | Straight Grip Handle |
| Brand Name | ALMIGHTY EAGLE |
| Brand | ALMIGHTY EAGLE |
| Suitable | Hiking/Camping/Climbing |
| Length (cm) | 73cm/89.5cm/106cm/122.5cm/139cm |
| Packing | Shovel bag |
| Model | G11 |
| Shaft Material | Aluminum |
| Handle Material | Rubber |